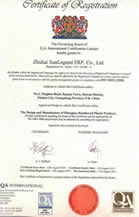 Wun Yip Fiberglass Engineering Limited was established since 1983 in Hong Kong, we have accumulated over 30 years of experience in the manufacture of all kinds of fiberglass products. In Hong Kong, we are a professional, renowned and reputable fiberglass manufacturer. Throughout these years, we have been continuously engaging in the research and development of new products to cater for the needs of customers with our own plants in Hong Kong and China. The total floor area of the production factory in Zhuhai are over 110,000 square feet (10,000 square meter) and we employ over 100 workers.

Being a quality oriented manufacturer, our plants in China has made a further achievement by acquiring the ISO9001:2000/ 14001 International Quality Management System Certificate in 2004. Wun Yip is dedicated to provide the best quality products and customer satisfaction.

Our company products include Guard house/Bus stop shelter, Covered walkway, Water tank/Chemical tank, Planter pots, Indoor and outdoor seating bench, Logo/Signage, Ceiling panel and Architectural cladding, Column cladding and Retaining wall etc.

Our Clients include HK SAR Housing Authority, HK SAR Architect Services Department, Sun Hung Kai Construction Co. Ltd., China State Construction Engineering Ltd., Hip Hing Construction Co. Ltd., Yau Lee Construction Co. Ltd., E Man Construction Co. Ltd., PCCW Ltd., Smartone Mobile Communication Ltd., New World PCS Ltd., Peoples Telcom Co. Ltd., KMB, Citybus Ltd., The New World First Bus Ltd., The Hong Kong Ocean Park, MTR, TVB and the Hong Kong Jockey Club etc.